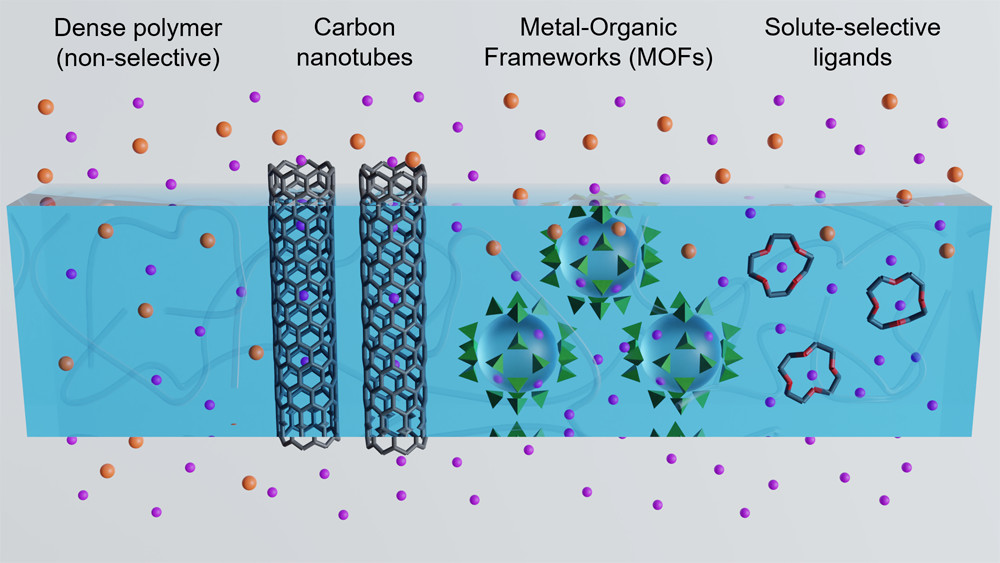 The growth of battery-powered devices and vehicles has brought attention to the increasing need for recovery of critical elements, such as lithium, cobalt, and rare earth elements. UT faculty are developing new technologies for extraction of these materials from waste streams with low energy input.
Research Areas
Recovery of lithium from produced water and salt brines with high recovery rates compared to traditional solar evaporation processes
Recovery of rare earth elements, such as those used in all types of vehicles
Micro/nanofluidic visualization of porous materials (e.g., rocks, battery materials) and the recovery of critical elements
Project Examples
Developing a MOF-polymer membrane platform for monovalent separations and resource recovery (e.g., Li-ion and F-ion) inspired by biological ion channels
Developing new, scalable technologies to extract rare earth elements from coal ash and other waste streams to provide a domestic source of critical materials, while reducing environmental impact and costs
Recovery of lithium from low-concentration, domestically available salt brine
Affiliated Center
UT leads the Center for Materials for Water and Energy SysTems (M-WET), a multi-university research center headquartered at UT and supported by the U.S. Department of Energy that addresses basic knowledge gaps in the development of next-generation, polymer membrane-based water purification technologies.
Faculty In This Area
Benny Freeman
Wen Song
Recent Research Highlights
Salt Partitioning and Diffusivity in Ligand-Functionalized Polymer Membranes
Benny Freeman and Venkat Ganesan
Macromolecules
Critical Minerals Supply Chain
Wen Song
UT Energy Week 2022
A Metal-Organic Framework Membrane to Selectively Filter Li Ions
Benny Freeman
Nature Materials
Designing Solute-Tailored Selectivity in Membranes
Benny Freeman
ACS Macro Letters
Enabling the Sustainable Energy Transition: Economic Recovery of Rare Earth Elements
Wen Song
Q&A with Dr. Wen Song